Minimally Invasive Surgery for Pancreatic Cancer at Digestive Institute Tampa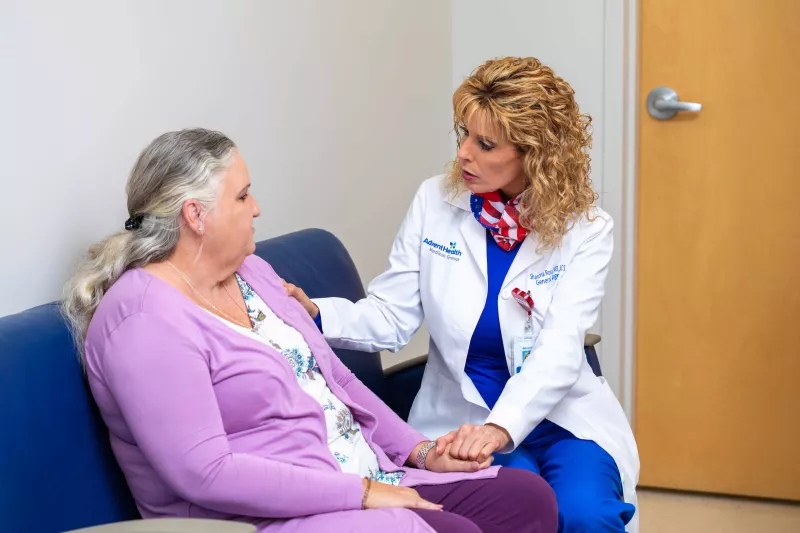 Choose the health content that's right for you, and get it delivered right in your inbox
When pancreatic cancer is detected early, it is more likely to be operable. Surgery is still the only chance for cure. It is important that patients seek care from surgeons who perform a high volume of pancreatic surgery. These are major operations, and studies show that patients who are treated by surgeons highly experienced in pancreatic procedures tend to have better outcomes and survival rates.
Two surgeons at AdventHealth Tampa's Digestive Institute – Alexander Rosemurgy, MD, FACS, Advanced Foregut and HPB Surgeon, and Sharona Ross, MD, FACS, Advanced Foregut and HPB Surgeon – perform high volumes of Whipple procedures (pancreaticoduodenectomy) and distal pancreatectomies to treat pancreatic cancer. Their high level of experience is only one thing that sets them apart from other surgeons when it comes to treating pancreatic cancer. What further distinguishes the Digestive Institute's surgeons is the way they offer these procedures – they perform them robotically or laparoscopically through a single incision made in the patient's belly button. This minimally invasive approach leads to a faster recovery, and patients can move on to their next phase of cancer treatment sooner.
#1 Hospital in the Nation for Robotic Pancreatic Surgery
Currently, Drs. Ross and Rosemurgy at the Digestive Institute Tampa perform more robotic pancreatic operations each year than any other center in the United States. Since 2015, they have used the surgical robot for most of their Whipple procedures and have now completed more than 400 of them this way. They translate their depth of experience into helping other surgeons learn how to use the surgical robot to treat pancreatic cancer.
"Our team has written chapters in three textbooks about how to perform robotic pancreatic surgery," says Dr. Ross. One of these books, Robotic Surgery, An Issue of Surgical Clinics of North America, was recently published this March. Because both pancreatic surgery and robotic surgery require a high degree of expertise and experience, there aren't many surgeons currently capable of offering this approach. Fewer than 1 of 10 patients having a pancreatic operation today will have it robotically. However, Drs. Ross and Rosemurgy actively teach other surgeons so more patients can experience the benefits of minimally invasive cancer surgery.
A Better Way to Recover After a Pancreatic Operation
Offering a robotic or laparoscopic minimally invasive procedure for pancreatic cancer is just that one of the ways that Drs. Ross and Rosemurgy give patients facing a difficult diagnosis an easier recovery after surgery. Drs. Ross and Rosemurgy and their colleague Iswanto Sucandy, MD, FACS, Advanced HPB Surgeon, encourage their patients to abide by enhanced recovery after surgery (ERAS) protocols. These protocols give patients a set of steps that, when followed, promote the body's better and faster healing after their operation.
"When patients have their procedure robotically, they are more likely to follow the ERAS protocol," says Dr. Ross. Using the protocol often reduces the amount of time the patient spends in the hospital, though the protocol starts even prior to surgery. "We have patients drink a protein shake that boosts their immune system before their operation," Dr. Ross adds. She says that the Digestive Institute Tampa stresses to patients the importance of using their incentive spirometers after surgery – which hastens recovery and prevents lung problems – and encourages them to get up and walk around instead of sitting in a chair all day. While in the hospital, patients receive physical therapy sessions twice daily, further speeding up the healing process.
Without an open procedure, which would require much larger incisions and more trauma to the body, patients are often able to avoid the intensive care unit and leave the hospital in two to five days after having pancreatic surgery. Also, rather than being discharged to an acute care center, they can go straight to the comfort of their own homes.
Giving More Patients with Cancer a Surgical Treatment Option
Surgery is not an immediate treatment option for more than 4 in 5 patients diagnosed with pancreatic cancer. However, Drs. Ross and Rosemurgy offer second opinions for patients who were refused surgery elsewhere. In some cases, after being treated with chemotherapy, locally advanced pancreatic tumors might shrink to the point where surgery becomes possible.
If you or a loved one is facing a pancreatic cancer diagnosis, find out if a minimally invasive surgery might be possible. Call Call813-615-7030 to make an appointment with an Advanced HBP Surgeon at the AdventHealth Digestive Institute Tampa.