World-Class Surgical Treatment Options For Colon And Rectal Cancer With Metastasis To The Liver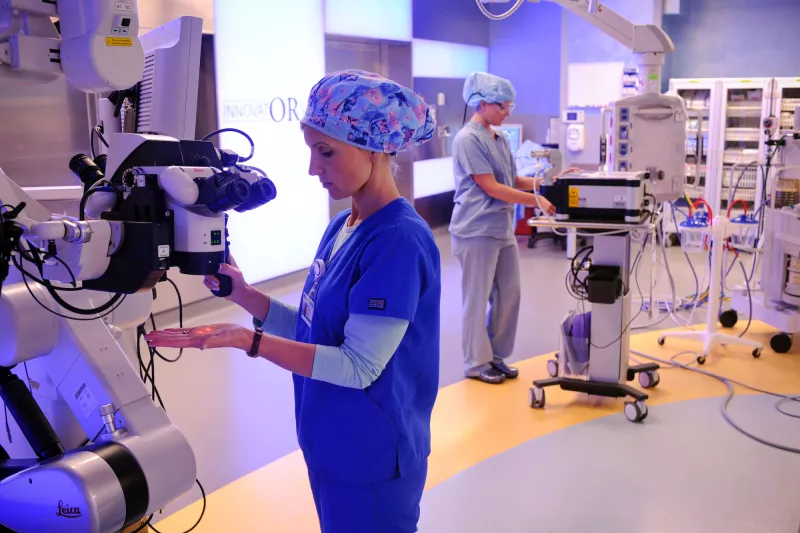 Choose the health content that's right for you, and get it delivered right in your inbox
According to the American Cancer Society, metastatic liver cancer, or cancer that has spread to the liver from the part of the body where it originated, is the most common form of liver cancer, with colon and rectal cancer being the most common source of origin. In fact, the latest medical studies show that 20 to 30 percent of patients with colon and rectal cancers either have a metastatic liver tumor at the time of initial diagnosis or will develop one.
Surgical resection offers the opportunity for definitive treatment of metastatic liver tumors, but currently most liver and colorectal resections are undertaken using a conventional open approach that involves large incisions in the abdomen and requires separate operations to resect the colon and then the liver. Recovery from these two separate procedures often delays the administration of adjuvant chemotherapy for 12 or more weeks, and in some cases, leaves liver lesions unresected for 15 weeks or longer.
To avoid delays in treatment, the experts at AdventHealth Digestive Health Institute (DHI) Tampa are at the forefront in the adoption and application of robotic surgery for conditions of the digestive system. The complexity of advanced stage liver and colorectal surgery requires a comprehensive approach and deep experience. Utilizing the robotic system, surgeons at DHI offer the latest and most advanced, minimally invasive options. With hepatic and colorectal surgeons highly experienced in the use of the robotic technology, DHI offers resection of the liver metastasis and colorectal cancer within the same surgical session. In addition to being more convenient for patients, this approach has the added benefits of a single recovery period surgical resection of all cancer tumors as soon as possible.
The benefits of robotic surgery
Robotic surgery is one of the most innovative advancements in medicine, permitting more procedures to be undertaken as closed, minimally invasive surgeries. AdventHealth Tampa has invested in the latest da Vinci® Surgical System, allowing our expert physicians to remove liver and colorectal tumors of all sizes with extreme precision through a series of small incisions.
Patients who have robotic surgery can expect significant benefits, such as:
Shorter hospital stays. Most liver resection patients are discharged within two to three days following surgery.
Reduced postoperative complications. Cardiac and pulmonary complications following surgery are significantly lower than in cases involving a large, open incision and more invasive techniques. Risks of wound infections and the development of hernias are also greatly reduced.
Reduced blood loss. Less blood is lost during robotic surgery, and the need for blood transfusions before and following surgery is greatly minimized.
Less scarring and less pain. Because the incisions are smaller and the surgical procedure is more targeted, most patients report minimal pain and/or do not require as much pain medication throughout their recovery period as they otherwise would.
Expedited recovery. Patients can return to work, family and social activities, and normal daily functions much faster than with traditional open surgery.
Expedited care process. Patients whose care plan involves chemotherapy or other post-surgical interventions can move into these phases of treatment sooner.
In addition, a robotic approach allows for the examination of the entire abdominal cavity for tumors and surface lesions often not seen on a CT scan. Robotic surgery also permits direct liver ultrasonographic assessment that increases the detection of lesions by 10 percent (as compared to CT scan and MRI), leading to better outcomes.
Liver tumor Surgery v. ablation
In most cases, surgery is the preferred and most effective treatment approach to liver metastases, but it is not the only option. Ablation is often promoted as a solution for lesions of the liver, but some multi-institutional studies indicate that the rate of recurrence is far greater with ablation than with surgery, especially for lesions greater than three centimeters in length. However, for select patients, after a thorough preoperative evaluation, ablation may be deemed the most appropriate course of action, and DHI offers a laparoscopic single-incision option for this.
DHI's multidisciplinary approach
The best treatment path for each patient is determined by DHI surgeons in conjunction with a weekly multidisciplinary conference with medical oncology, radiation oncology, radiology and pathology. A close relationship with Florida Cancer Specialists allows the Digestive Health Institute to offer a complete continuum of care, from neoadjuvant therapy and radiation therapy to surgical treatment by both hepatic and colorectal surgeons, and back to the medical and radiation oncologists.
Experts in complex hepatic and colorectal surgery
Meet Dr. Iswanto Sucandy, Advanced HPB Surgeon
The Digestive Health Institute provides priority access for patients who have been newly diagnosed with cancer. To refer a patient or to learn more about robotic surgical solutions for liver cancer, please call Call813-615-7030.
Recent News
Congratulations to Dr. Sharona Ross, who was named a Patient Preferred Surgeon for her dedication and excellence in patient care by the Patient Preferred Physicians and Practitioners.

On January 14, the Eastern Association for the Surgery of Trauma (EAST) organized a day-long course that focused on providing expertise and insight on the rapidly developing application of robotics...

For her dedication and excellence in patient care, Patient Preferred Physicians and Practitioners proudly named Dr. Sharona B. Ross, MD, FACS, a Patient Preferred Surgeon for upper gastrointestinal...