Pancreatic Cancer Awareness At The Digestive Health Institute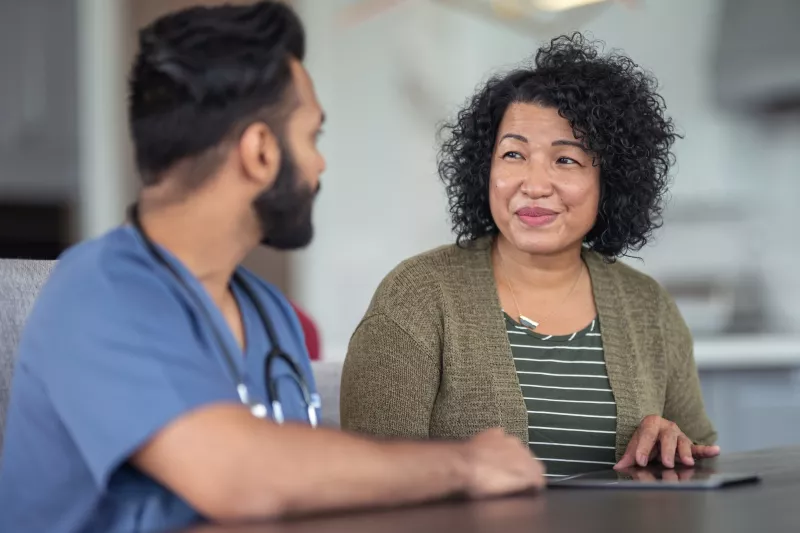 Choose the health content that's right for you, and get it delivered right in your inbox
Pancreatic Cancer Awareness at the Digestive Health Institute
By Lindsay Agema, Lindsey Bergman, and Colleen Binder
At Florida Hospital's Digestive Health Institute, we provide treatment for many patients, including those with pancreatic cancer. Pancreatic Cancer is the 3rdleading cause of cancer related deaths in the United States and has the lowest 5-year survival rate of any major cancer, at only 8%. Bringing awareness and raising money that can be used to fund research that leads to the discovery of new treatment options for this lethal disease is essential.
Over the course of October and November we held various fundraisers ranging from bake sales to cupcake challenges to pop-up merchandise sales for the Pancreatic Cancer Action Network. Our merchandise sales included 'Hope' bracelets made and donated by Colleen Binder, Lindsey Bergman, Jennifer Kilbourn, and Lindsay Agema, 'Made with Love' bracelets made and donated by Lindsay Agema, and shirts developed by the DHI Research and marketing team as well as Leslie Cutrono and her 4 South Florida Hospital nurse team. We participated in the annual 'Purple Stride' 5k in St. Petersburg, and rounded out our efforts with our newly developed tradition known as the 'Pancreatic Cancer Awareness After Party.'
This last event was a success and is something we as a team are very proud to introduce to our community. This event was open to the local community and held at 'Carmel Kitchen' in Carrollwood. Our collective efforts attracted upwards of 60 attendees, including Florida Hospital executives, some of our DHI team, physicians, patients, survivors, and other community members. Tickets were $20 and this provided our guests with free raffle tickets, food and beverage, a photo-booth, and live music by local artist Matt Bellina. We received great support from several local businesses, whose managers generously donated gift cards and baskets for our raffle (please see list of contributors below). One-hundred percent of the proceeds went directly to Pancreatic Cancer Action Network.
Moving forward we plan to continue to raise awareness and more funds for Pancreatic Cancer Action Network and for our research pertaining to this disease. Because of the wonderful participation with this cause, we also plan to create greater community outreach events at Florida Hospital's Digestive Health Institute. We will begin group therapy sessions and simple gatherings for our patients, survivors, the families, and our team that can share their experiences, stories, and time together.
We have recently partnered with Suzy Swenson, a pancreatic cancer survivor and chairperson for the Pancreatic Cancer Action Network to help announce and execute our future plans via PanCan.org. Please look to the website www.pancan.org for the calendar of events for the upcoming year! We look forward to bringing everyone together and continue raising hope!
Many thanks to our local businesses:
Carmel Kitchen Carrollwood – Event accommodation, support, wine basket, and $50 gift card
Matt Bellina – live entertainment
Jessica Phillips Photography – 1-hour photo session, 5 edited digital images
Hannah Buckley Photography - $50 voucher towards any photo session
Neil Taylor - Strike Three Kayak Fishing – Half-day, fully guided, kayak/fishing gear included, kayak fishing trip for 2
Pieces of Treats Ice Cream Parlor and Bakery Café – 50% of ice cream proceeds during the month of November
Petco - dog gift basket
Ciccio Cali New Tampa – 3 $25 gift cards
Tijuana Flats - $20 gift card
Villagio movie theater – 4 movie passes
Applebee's - $20 gift card
Burger 21 Carrollwood - $21 gift card
Cici's pizza – 6 all you can eat food buffet passes
Fresh Market - gift basket
Starbucks – coffee
Empower Adventures Tampa Bay – 2-hour zipline canopy tour for 2
Hand and Stone Massage – massage or facial and gift basket
SerenBe Spa – 70-minute hot stone massage and body scrub
Cookies by Design – Pancreatic cancer support cookie basket
Edible Arrangements - $59 gift card
Publix – desserts
Recent News
Congratulations to Dr. Sharona Ross, who was named a Patient Preferred Surgeon for her dedication and excellence in patient care by the Patient Preferred Physicians and Practitioners.

On January 14, the Eastern Association for the Surgery of Trauma (EAST) organized a day-long course that focused on providing expertise and insight on the rapidly developing application of robotics...

For her dedication and excellence in patient care, Patient Preferred Physicians and Practitioners proudly named Dr. Sharona B. Ross, MD, FACS, a Patient Preferred Surgeon for upper gastrointestinal...