Dr. Ross Brings Da Vinci Robot To Family Of Christ Christian School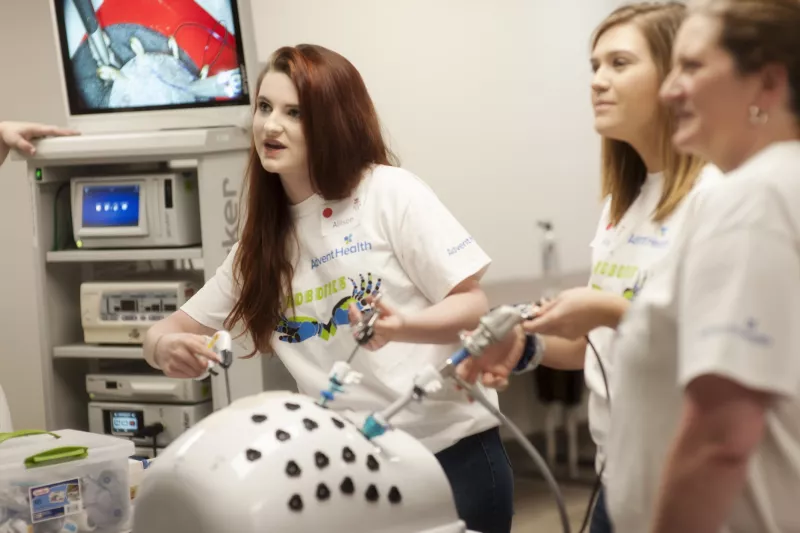 Choose the health content that's right for you, and get it delivered right in your inbox
Dr. Sharona Ross, Director of Minimally Invasive Surgery at Florida Hospital, Tampa, had the pleasure of visiting Family of Christ and Christian School to speak to their elementary and middle school students. The purpose of her visit was to showcase the state-of-the-art technology known as the da Vinci robot, in order to demonstrate the advanced techniques and technology she uses before and during minimally invasive surgeries.
The benefits of da Vinci surgery include but are not limited to:
Greater surgical precision
Increased range of motion
Improved dexterity
Enhanced visualization
Improved access
A life-changing alternative to invasive surgery, the da Vinci robot is an earth-shattering development in medical technology, and the purpose of Dr. Ross' visit was to educate the children of Christ Christian School with what is happening in the medical community as of late.
Technology Shown During Dr. Ross's Visit
This incredibly educational visit allowed the children a chance to test drive two da Vinci robotic systems, to further understand how surgeons, like Dr. Ross, use the robot to execute medical operations with critical accuracy. Students then had the chance to try Surgical Reality, a 360-imaging system used solely at Florida Hospital, Tampa to detect and analyze complex medical cases and map out surgical plans.
These unbelievably enriching experiences are sure to stay with the children for years to come, as Dr. Ross' objective is encouraging the development of new and innovative techniques in medicine. Her passion for the advancement of Minimally Invasive Surgery is rooted in inspiring STEM education among youth, which is what she hoped to do with her invaluable visit to the Family of Christ Christian School.
To learn more about Dr. Ross' extensive medical experience, as well as the other advanced technologies used at Florida Hospital, Tampa, contact her exceptional medical team by calling Call813-615-7450 today.
Recent News
Congratulations to Dr. Sharona Ross, who was named a Patient Preferred Surgeon for her dedication and excellence in patient care by the Patient Preferred Physicians and Practitioners.

On January 14, the Eastern Association for the Surgery of Trauma (EAST) organized a day-long course that focused on providing expertise and insight on the rapidly developing application of robotics...

For her dedication and excellence in patient care, Patient Preferred Physicians and Practitioners proudly named Dr. Sharona B. Ross, MD, FACS, a Patient Preferred Surgeon for upper gastrointestinal...