CME Dinner Florida Hospital Heartland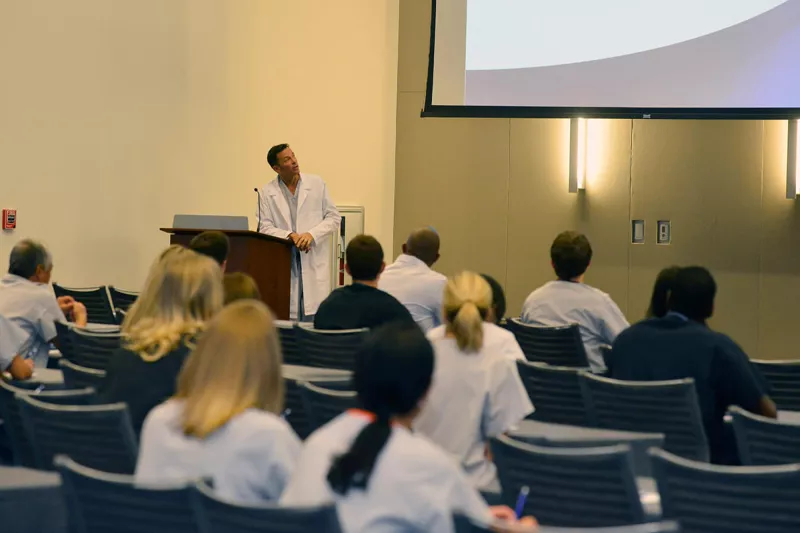 Choose the health content that's right for you, and get it delivered right in your inbox
Dr. Ross and Dr. Rosemurgy traveled to Florida Hospital Heartland on July 23rd, 2014 to speak to a group of physicians on Minimally Invasive Techniques and Pancreatic Cancer. Dr. Ross focused on the progression of techniques for many operations from an open approach to a LESS approach. Dr. Rosemurgy spent time elaborating on the treatments for patients with pancreatic cancer, the progression of the disease and patient outcomes. The event was well attended and we hope to see many of these physicians at our HPB Summit Meeting on September 6thand the Abdominal Surgeons Meeting on October 31st.
Pancreatic cancer can benefit from the use of LESS surgery, as it can help to remove benign and malignant tumors. Those that are able to remove the entirety of their cancer with LESS face a good prognosis.
Dr. Rosemurgy has an extreme interest in pancreatic cancer and has acquired some of the largest data sets worldwide on minimally invasive surgery for the disease. He co-founded the Southeastern Center for Digestive Disorders and Pancreatic Cancer Advanced Minimally Invasive and Robotic Surgery Practice in 2012. Dr. Rosemurgy was recognized by the Pancreatic Cancer Action Network for his interest and work in pancreatic cancer.
Are you seeking medical treatment for pancreatic cancer? The doctors at Florida Hospital Tampa can answer any questions you have regarding how LESS surgery can help your prognosis .Call Call813-615-7030 to book an appointment!
Recent News
Congratulations to Dr. Sharona Ross, who was named a Patient Preferred Surgeon for her dedication and excellence in patient care by the Patient Preferred Physicians and Practitioners.

On January 14, the Eastern Association for the Surgery of Trauma (EAST) organized a day-long course that focused on providing expertise and insight on the rapidly developing application of robotics...

For her dedication and excellence in patient care, Patient Preferred Physicians and Practitioners proudly named Dr. Sharona B. Ross, MD, FACS, a Patient Preferred Surgeon for upper gastrointestinal...