The Digestive Institute's Advanced Expertise in Robotic Surgery Highlighted at the 88th Annual Meeting of the Southeastern Surgical Congress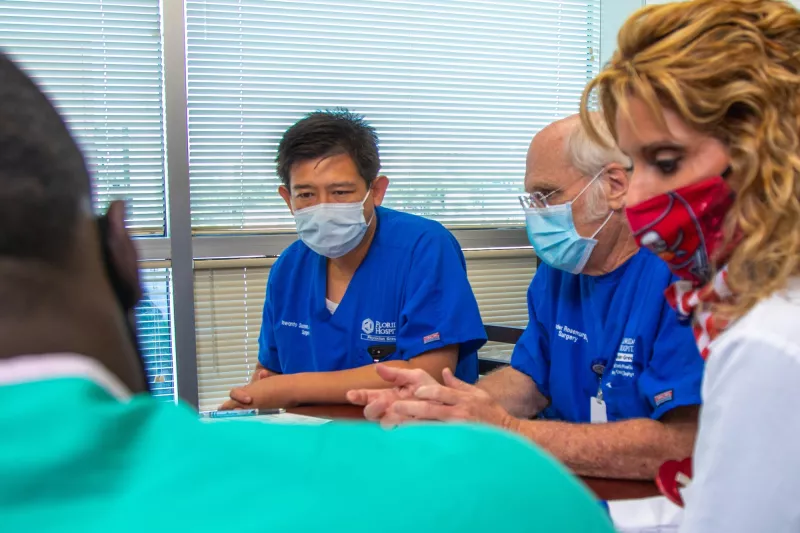 Choose the health content that's right for you, and get it delivered right in your inbox
At the recent Southeastern Surgical Congress (SESC) Annual Scientific Meeting, it was evident that AdventHealth Tampa's advanced Foregut and HPB (hepatopancreatobiliary) surgeons have helped make the Digestive Institute one of the nation's leading centers for robotic surgery. At the meeting, held February 8 – 11, 2020, in New Orleans, Digestive Institute surgeons gave a total of five presentations, each covering some aspect of robotic surgery. These presentations were based on the Digestive Institute's research activities, led by Alexander Rosemurgy, MD, FACS, a highly experienced advanced Foregut and HPB surgeon.
Robotic surgery gives patients the benefits of: less pain and blood loss, smaller incisions, and a faster and easier recovery. In addition to the Digestive Institute's robotic surgery presentations, two surgeons, Sharona Ross, MD, FACS, advanced Foregut and HPB surgeon, and Iswanto Sucandy, MD, FACS, advanced HPB surgeon, moderated a few of the meeting's sessions, an honor reserved for highly accomplished and knowledgeable experts.
The Digestive Institute's advanced Foregut and HPB Minimally Invasive and Robotic clinical and research fellows each gave two presentations at the SESC meeting. Gabriel Rivera, MD, presented in the session entitled "Crazy Cases" about a complex robotic liver operation. A majority of other hospitals in the U.S. still use open surgery for liver resection, but Dr. Sucandy and Dr. Rosemurgy are often able to offer it robotically, a very minimally invasive approach.
Dr. Rivera also gave a talk about the first 100 robotic body and tail pancreatic cancer resections and how their outcomes compared to those performed nationally. By looking at patient outcomes data provided by the National Surgical Quality Improvement Program (NSQIP), the Digestive Institute's advanced Foregut and HBP surgeons discovered that their patient outcomes for robotic pancreatic surgery exceeded those at the other national centers, the large majority of which were done either as open or minimally invasive, laparoscopic procedures. In many cases, operations at the Digestive Health Institute took less time and were on average 40 percent shorter than the national average.
Kenneth Luberice, MD, the Digestive Health Institute's clinical research fellow, also gave two presentations at the SESC annual meeting. The first looked at patients' age and outcomes after robotic liver resections. The conventional wisdom is that as patients get older and develop underlying medical conditions, they reach a point where they become too frail for surgery. Surgery might pose a dangerous option for them because their risk of dying after an operation increases. However, the Digestive Health Institute's advanced Foregut and HPB surgeons discovered that among their patients having a major liver operation with the robot, age made no difference related to mortality; older patients did just as well as younger ones. The only significant difference between age groups was that older patients sometimes required a longer hospital stay to recover after their operation. However, having liver surgery as an option – as long as it's done robotically – is beneficial for many older patients.
Dr. Luberice also gave a presentation about the growth of robotic surgery over the past few years for advanced Foregut and HPB surgical procedures. By looking at data about esophageal, pancreatic and liver operations, Dr. Luberice noted that 13 percent of them were performed with the surgical robot in 2015, a percentage that had increased to 64 percent by 2018. However, this growth in robotic surgery for handling these complex GI operations was driven by the nation's five busiest centers for GI surgery, of which the Digestive Institute's center of innovative surgery is one. Today, still less than 10 percent of esophageal, pancreas and liver operations in the U.S. are performed with the robot. However, by choosing a center experienced with robotic surgery, patients might reap the benefits of a less invasive operation and faster overall recovery with less pain.
At the meeting, Dr. Sucandy gave an oral and video presentation about a patient who had a bile duct injury after a gallbladder removal operation at another hospital and experienced complications. Gallbladder removal, or cholecystectomy, is the most common surgical procedure with about 600,000 performed each year in the U.S. Despite being highly routine, about 1 to 2 percent of cholecystectomies result in complications that require surgeons to switch to open procedures. Unfortunately, that leaves patients with large scars and longer recoveries. However, patients who are transferred to the Digestive Health Institute's advanced Foregut and HPB surgeons benefit from a minimally invasive robotic repair of their bile duct injury, avoiding the need for open surgery.
Dr. Ross moderated the pancreas session at the Southeastern Surgical Congress where various minimally invasive surgical approaches were presented by surgeons from all around the world. As thought leaders in robotic surgery, the surgeons at the Digestive Health Institute are helping other surgeons across the nation learn how they can offer more of their procedures as minimally invasive ones. Through their attendance and presentations at conferences like the SESC annual meeting, our surgeons are advancing the future of robotic surgery so that more patients can have a better surgical experience and improved outcomes.
If you need surgery for the esophagus, pancreas or liver, a minimally invasive option might be available to you. To find out, call 813-615-7030 to schedule an appointment with a Digestive Institute surgeon.