Digestive Institute Tampa's Dr. Sharona Ross Moderates Panel on Surgeon Leadership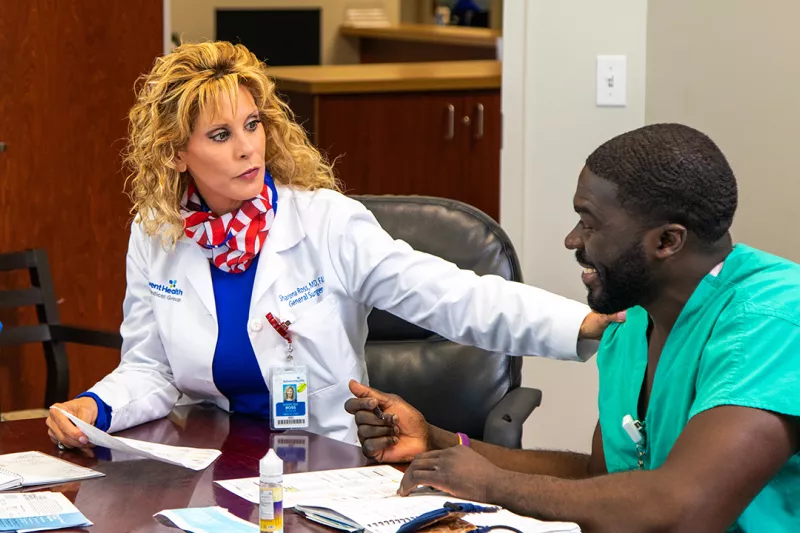 Choose the health content that's right for you, and get it delivered right in your inbox
Because of her extensive experience with robotic surgery, Sharona Ross, MD, FACS, advanced foregut and HPB surgeon at the AdventHealth Digestive Institute Tampa, was invited to moderate a panel discussion at the Intuitive Connect Up Robotic Surgery Forum 2020. The December 5 event was described as a "virtual learning experience" for surgeons in a variety of different surgical specialties, including general surgery, colon and rectal surgery, and bariatric surgery. Dr. Ross and her colleagues, Alexander Rosemurgy, MD, FACS, an advanced foregut and HPB surgeon, and Iswanto Sucandy, MD, FACS, an advanced HPB surgeon, are some of the nation's most experienced in using the surgical robot to offer their patients minimally invasive operations for digestive conditions related to the liver, bile ducts, gallbladder, pancreas, stomach and esophagus.
In a virtual session entitled "A Panel on Surgeon Leadership," Dr. Ross introduced and interviewed three other surgeons, who were leaders of Women in da Vinci Surgery and/or the Robotic Surgery Collaboration. The discussion focused on how surgeons can advance the practice of surgery by encouraging their hospitals to adopt robotic surgery, giving more patients the opportunity to have a minimally invasive operation. In so doing, surgeons will need to network with other surgeons and take advantage of available resources – which will help them continue to grow as leaders. Dr. Ross began by asking each surgeon to speak about their journey on how they came to use robotic surgery.
Alisa Coker, MD, an assistant professor of surgery at Johns Hopkins University School of Medicine in Baltimore, said that she followed her passion, which led her to focus on robotic surgery. She mentioned that building relationships with other doctors was crucial to building her practice. Laila Rashidi, MD, a colorectal surgeon in Seattle, advised those striving to grow professionally to not take "no" for an answer and to look for mentors. Finally, Yusef Kudsi, MD, chief of surgery at Good Samaritan Medical Center in Brockton, Massachusetts, and founder of the 12,000+ member Robotic Surgery Coalition virtual learning platform, said that sharing videos of the techniques used to perform robotic surgery was a good way to keep other surgeons informed.
Starting a Robotic Surgery Program from Scratch
The panel discussed ways in which surgeons could build programs in robotic surgery at their hospitals. Dr. Ross mentioned that it was important to work with a hospital's administration to find partners who could advocate for the importance of offering robotic surgery to patients. The da Vinci® Surgical System is a major piece of technology that requires an investment, but the benefits to patients in terms of better surgical outcomes are worth it. Dr. Coker suggested that surgeons who want a surgical robot at their hospital should join the surgical committee or, if there isn't one, start one themselves.
Drs. Rashidi and Kudsi mentioned that as little as 10 years ago, there wasn't much interest in robotic surgery among hospital executives. Since then, however, technology has improved. The surgical robot is now used for many more procedures in a variety of specialties. Oftentimes, robotic surgery is the best way to give patients the benefits of minimally invasive surgery. In some cases, such as with cancer surgery, the da Vinci system gives surgeons a better view of the operative site compared to an open procedure. Because they can view the tumor better, they are more likely to remove all of it, helping give patients a better prognosis.
Dr. Rashidi was able to persuade her hospital's CFO to purchase a da Vinci Surgical System after she collected data about how it would benefit everyone. Dr. Kudsi started by convincing the operating room staff – the people who would be most involved with robotic surgery – before moving on to talking with his hospital's management team.
Dr. Coker agreed that presenting data to the decision makers is key. She mentioned that clinical representatives from Intuitive Surgical – the makers of the da Vinci Surgical System – can be of help here. Looking at recorded outcomes and results of procedures with the surgical robot compared to open surgery is important. Dr. Rashidi suggested recording everything that is done in the operating room (OR). Dr. Kudsi said that he started a research fellowship in order to start collecting OR data. Dr. Ross also talked about the Digestive Institute Tampa's summer research program that gives pre-med students the opportunity to manage data and write papers about new insights. The program provides valuable experience to students while giving the surgeons insights about how surgical outcomes can be improved. Finally, Dr. Ross mentioned that it's important to continue to demonstrate that robotic surgery is safe and ultimately helps lower costs.
Much Depends on the OR Team
Because a good robotic surgery program heavily depends on what happens in the OR, Dr. Ross asked the panelists about how they built their OR teams. Dr. Kudsi stressed that the personalities of the members of the team – and especially the key players – need to match. It's necessary to have an environment where everyone feels safe, particularly if a hospital is first starting off with robotic surgery. Dr. Coker, who works at a large academic hospital, mentioned that she does not get the benefit of having the same designated team in every case. Therefore, she mentioned training everyone to be a problem-solver was important. Having a team approach where everyone is open to learning from everyone else is also critical said Dr. Rashidi. According to Dr. Ross, even at big hospitals, surgeons can benefit by building close relationships with the people they most often work with in the OR.
Robotics: Changing Surgery for the Better
Dr. Ross concluded the panel discussion by stressing that the innovations that robotic surgery has made to the field in recent years are exciting – better results and faster and easier recoveries for patients. However, it takes a team; it's not all about one surgeon. Surgeons who want to become leaders in robotic surgery need to focus on building their network of professional relationships. Through events like the Connect Up Robotic Surgery Forum 2020, surgeons from all over the United States and even the world have new virtual opportunities to grow professionally. When surgeons share their expertise with each other, patients ultimately benefit.
Surgeons at the Digestive Institute Tampa are highly experienced in offering robotic surgery for a variety of digestive conditions. For an appointment with an advanced HPB or foregut surgeon who offers minimally invasive approaches, call Call844-650-5950.