Digestive Institute Surgeons Share Robotic Surgery Experience at SLS MIS 2020 Virtual Meeting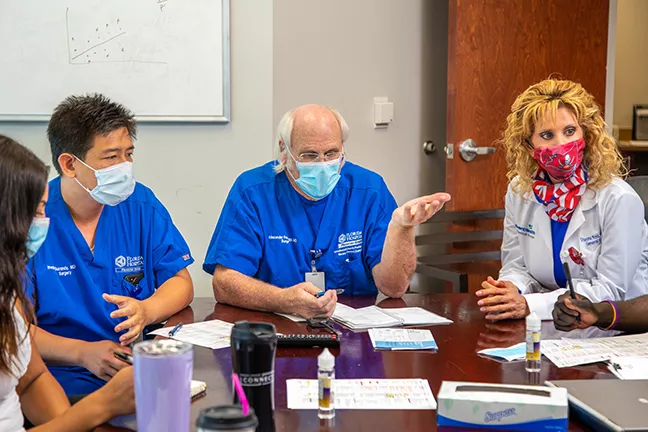 Choose the health content that's right for you, and get it delivered right in your inbox
The surgeons at the AdventHealth Digestive Institute Tampa (DI) routinely share about their expertise in minimally invasive surgery at professional conferences. This year, COVID-19 has forced these meetings to become virtual events.
To better accommodate surgeons' busy schedules, the Society of Laparoscopic Surgeons spread out their Virtual SLS MIS 2020 meeting over four weeks. On August 27, Alexander Rosemurgy, MD, FACS, advanced foregut and HPB surgeon at DI, presented about "Pancreaticoduodenectomy: Which Metric(s) Supports Application of the Robotic Platform?" A few weeks later on September 16, he presented again about "A Single Institution's Experience with Robotic Fundoplication in High-Risk Patients."
Open or Robotic Whipple Procedure: Which Is Better for Patients in Tampa?
Dr. Rosemurgy and his colleagues, Sharona Ross, MD, FACS, and Iswanto Sucandy, MD, FACS, also advanced hepatopancreatobiliary (HPB) surgeons, worked together with their research team to study when pancreaticoduodenectomy, often referred to as the Whipple procedure, should be offered as a robotic operation. The da Vinci® Surgical System allows surgeons to perform very complex procedures as minimally invasive surgery. This approach spares patients from needing a large abdominal incision, as with open surgery.
"Those of us with extensive experience with robotic surgery are very excited about using it for pancreatic operations," says Dr. Rosemurgy. "However, it's important that we have objective information about whether a robotic approach is actually the best for patients who need Whipple procedures."
To learn more, they looked at their pancreaticoduodenectomy cases from 2013 through 2018. Of these patients, 187 had open procedures and 200 had robotic operations. The team discovered that the procedures took longer with the surgical robot – an average of 411 minutes – compared with an average of 244 minutes for an open operation. Complication rates, in-hospital mortality rates and 30-day readmission rates were similar between the two approaches.
However, blood loss was about 43 percent lower with robotic surgery. On average patients were able to leave the hospital after five days compared to eight days for an open operation. For patients who needed chemotherapy after their Whipple procedure, the surgical approach made no difference as to when they were able to start. That said, the patients who had had a robotic pancreaticoduodenectomy were more likely to complete their course of chemotherapy (62 percent) compared to those who had an open procedure (only 44 percent).
Perhaps most significantly, Drs. Ross, Rosemurgy and Sucandy had a higher negative margin cancer resection rate with the robotic approach (85%) compared to the open operation (73%). Combined with a better ability to tolerate chemotherapy after surgery, this may be part of the reason why the median survival for patients who had robotic Whipple surgery was 32 months compared to 17 months for those who had the traditional open approach. More data is still needed, but the robotic approach to pancreaticoduodenectomy appears to offer significant benefits.
Robotic Fundoplication Outcomes for High-Risk Patients
Dr. Rosemurgy also presented a study that he, Dr. Ross and Dr. Sucandy completed to look at the surgical outcomes for a group of high-risk patients. These were people who required a fundoplication – a procedure that strengthens the lower esophageal sphincter (LES) that separates the esophagus, or food tube, from the stomach. Having a strong LES prevents acid from refluxing back up into the esophagus, causing acid reflux (GERD) and raising risk for esophageal cancer.
This group of high-risk patients was made up of people who:
• Already had a fundoplication for GERD but it failed (43 patients)
• Had a giant hiatal hernia (31 patients)
• Previously had extensive surgery within the abdomen that required mesh placement (26 patients)
They compared the outcomes of their robotic, high-risk fundoplication procedures with national outcomes for high-risk fundoplication as reported by the American College of Surgeons' National Surgical Quality Improvement Program (NSQIP). The NSQIP outcomes are primarily from open fundoplication operations, although some participating surgeons also use minimally invasive approaches such as robotic surgery.
Drs. Ross, Rosemurgy and Sucandy found that their experience with performing these high-risk fundoplication procedures with the surgical robot resulted in similar outcomes to the national average for kidney failure, cardiac complications and death (all zero percent) and discharge to a nursing facility (1%). However, their outcomes were superior when it came to complications such as pneumonia, surgical site infection, deep vein thrombosis, sepsis and return to the OR. None of the 100 patients studied experienced any of these things. Two patients were later readmitted to the hospital, but this 2 percent readmission rate was half of the 4 percent rate of the NSQIP hospitals.
Drs. Ross, Rosemurgy and Sucandy Showcase Their Minimally Invasive Surgery Skills
Dr. Ross also presented videos at the SLS MIS 2020 conference, highlighting their advanced minimally invasive techniques. She shared a video through the virtual conference in which she safely and effectively offered a laparo-endoscopic single site (LESS) fundoplication to a patient who had a giant hiatal hernia. A hiatal hernia occurs when the top of the stomach bulges through a person's diaphragm, the muscle that separates the abdomen and chest. Having a hiatal hernia can cause mid-section and chest pain as well as upper gastrointestinal issues. In cases in which most other surgeons would use an open operation, Dr. Ross and Dr. Rosemurgy repair paraesophageal hernias and strengthen the lower esophageal sphincter – all through just one incision in the patient's navel.
In another video, Dr. Ross explained how to navigate around different structures of the hepatic (liver) artery while performing a robotic Whipple procedure. About 1 in 5 patients has an unusual hepatic artery structure. In the video, Dr. Ross showed how they used the surgical robot and a high-quality CT scan to better visualize the irregular blood vessels in three patients before and during surgery. Having this information helps the surgeons avoid injuring the hepatic artery.
In the final video she presented, Dr. Ross showed a robotic operation for a patient who required a Whipple procedure and gall bladder removal (cholecystectomy) to treat a case of pancreatitis that kept returning. A newer instrument – a surgical stapler compatible with the di Vinci Surgical System – was used to separate part of the pancreas from the rest of the anatomy. Surgical stapling saves time, shortening the time a patient is under general anesthesia, because it separates tissues and stops bleeding in the same step. The complicated procedure required much reconstruction and the creation of new pathways from the liver and remaining part of the pancreas to the upper portion of the intestines.
By Drs. Ross, Rosemurgy and Sucandy demonstrating to other surgeons that a minimally invasive approach to complicated operations is not only possible but also safe and effective, ultimately more patients will be able reap the benefits of minimally invasive surgery.
If you need surgery for any digestive condition, our experienced surgeons at the Digestive Institute Tampa will strive to offer it as a minimally invasive procedure. For a surgical consultation, call Call813-615-7030.