Digestive Institute Surgeon at the Society of Surgical Oncology Meeting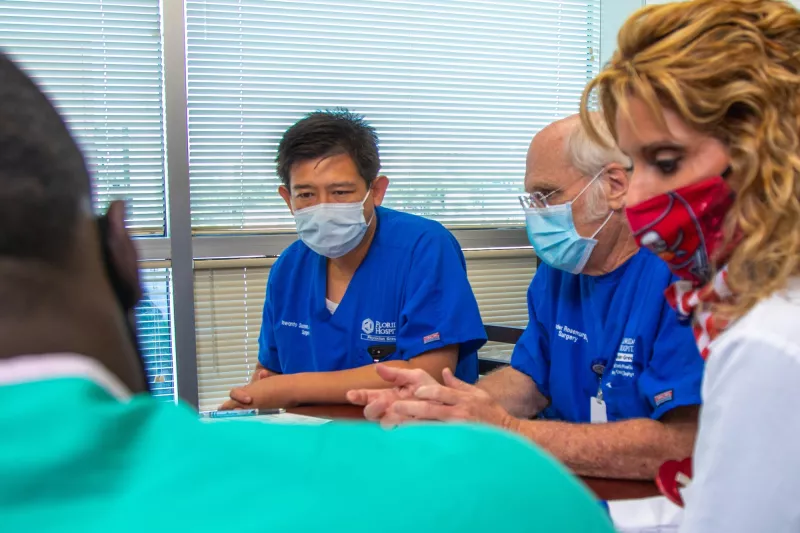 Choose the health content that's right for you, and get it delivered right in your inbox
Although the COVID-19 pandemic shifted professional surgery conferences this year from in-person to virtual meetings, the surgeons at the AdventHealth Digestive Institute Tampa (DI) are still maintaining a heavy presentation schedule. At the Society of Surgical Oncology (SSO) virtual meeting, Iswanto Sucandy, MD, FACS, advanced hepatopancreatobiliary (HPB) surgeon, presented about his experience with robotic surgery for major liver operations. The SSO 2020: International Conference on Surgical Cancer Care was a live event that took place three hours each on August 17 and 18. Additionally, SSO members have the ability to view all of the event's recorded sessions on demand.
Today, only about 1 out of every 10 liver procedures are offered minimally invasively, such as with the da Vinci® Surgical System. This approach gives patients the benefit of avoiding an open operation with a large abdominal incision. It means less pain after the operation, with less risk for complications and blood loss, a shorter hospital stay and a faster overall recovery.
The Digestive Institute's Dr. Sucandy is internationally known for using robotic surgery for his liver operations. He and his colleagues, Alexander Rosemurgy, MD, FACS, and Sharona Ross, MD, FACS, both advanced Foregut and HPB surgeons at DI, routinely offer surgical solutions with the da Vinci. In some cases, this approach has provided treatment to patients who otherwise would have had no other options.
At the SSO 2020 meeting, Dr. Sucandy gave a virtual presentation on "Robotic Major Hepatectomy: An Institutional Experience and Clinical Outcomes" in which he presented outcomes data for 100 patients who had major robotic liver surgery at DI since 2016. This content was published in July 2020 as a scientific paper by the Annals of Surgery, a prestigious journal for surgical oncology. In the Top Rated Videos section, Dr. Sucandy also shared a video of a procedure he performed called "robotic total anatomical left hepatectomy and caudate lobe resection with microwave ablation." This was a complicated and technically advanced operation in which a patient had cancer tumors in both the left and right sides of the liver. However, he provided a safe and effective treatment with the surgical robot.
Patient Outcomes for Major Robotic Liver Surgery at the Digestive Institute Tampa
"Major liver surgery is defined as removing three or more liver segments," says Dr. Sucandy. "Most of the medical literature today only discusses robotic surgery outcomes for minor liver procedures," he continues, "so my presentation – which lives on at the SSO website – helps other surgeons realize that using the surgical robot for major liver surgery isn't only possible, it's also very safe."
DI surgeons prefer to compare their surgical outcomes to the data published by the National Surgical Quality Improvement Program (NSQIP), an effort of the American College of Surgeons (ACS). The length of time it took DI surgeons to perform major liver surgery robotically compares favorably to the average of the 132 surgery centers participating in the NSQIP. It's worth noting that most of the other NSQIP centers perform major liver surgery as open operations. Because major liver procedures are riskier than other operations, it's not uncommon for at least 1 out of every 8 patients to be readmitted to the hospital because of later complications. In 2019, among NSQIP hospitals, 13.51 percent of people having major liver surgery were readmitted within 30 days of leaving the hospital compared with 15.29 percent of those who had major robotic liver surgery at DI since 2016.
When it came to specific serious complications, the DI data were significantly better than the NSQIP average. At DI, only one patient each (1 in 85) experienced pneumonia, sepsis and bile leak after surgery. This works out to less 1.18 percent on each of these measures compared with 1.97 percent for pneumonia (1 in 50), 9.44 percent for sepsis (nearly 1 in 10) and 18.10 percent for bile leak (more than 1 in 6) at the NSQIP hospitals together.
"We are highly encouraged by these results," says Dr. Sucandy. "They show that our performance and experience in offering minimally invasive major liver surgery with the da Vinci does not compromise the quality of our operations. Rather, liver surgery at the Digestive Institute results in fewer postoperative complications compared to liver surgery nationally," he continues.
Video of a Complicated Major Robotic Liver Surgery
As mentioned earlier, at the SSO conference, Dr. Sucandy also presented a video of technically challenging case of cancer that had spread to both sides of the liver and required a major liver surgery.
"It was an extremely technical and complex operation," says Dr. Sucandy, "but I was able to use the surgical robot to give the patient a safe and effective minimally invasive treatment."
Imaging before the operation showed that colon cancer had spread to liver, mostly on the left side, but there were also cancerous tumors on the right side. The liver is the body's only organ that can regenerate itself, so leaving enough of the liver so it can grow back after surgery is crucial. Because of this, it wasn't possible to remove the tumors on the right side of the liver. Instead, after delicately operating to remove the left portion of the liver, Dr. Sucandy applied microwave energy to the right-sided tumors for five minutes. Doing this safely destroyed cancer cells while preserving the right lobes of the liver.
Surgical conferences such as SSO 2020 give DI surgeons an opportunity to share their expertise with other surgeons across the nation and even the world. Our surgeons hope that their colleagues might adopt minimally invasive procedures such as those completed with the da Vinci Surgical System so that more patients can benefit from easier and faster recoveries.
Find out if robotic liver surgery is a treatment option for you. The Digestive Institute HBP surgeons make every effort to see people newly diagnosed with cancer within five business days. For an appointment, call Call844-650-5950.