Digestive Institute Surgeon Gives Invited Talk, Multiple Presentations at International Laparoscopic Liver Society's 3rd World Congress
Choose the health content that's right for you, and get it delivered right in your inbox.
To help promote minimally invasive surgery – which has many benefits for patients – and share their expertise, AdventHealth Digestive Institute Tampa (DI) surgeons such as Iswanto Sucandy, MD, FACS, advanced HPB (liver, pancreas and bile duct) surgeon, and Sharona Ross, MD, FACS, advanced HPB and foregut surgeon, often give talks at academic conferences.
In our last post, we mentioned that Dr. Sucandy was invited to give several presentations to professional audiences in a short amount of time. That post covered the first two of those talks; this post discusses Dr. Sucandy's presentations at the 3rd World Congress of the International Laparoscopic Liver Society (ILLS).
This prestigious conference of worldwide experts, hosted virtually this year on June 12 -13, was previously held in Paris and Tokyo. The ILLS is a society for surgeons who focus on minimally invasive surgery for the liver. Dr. Sucandy serves on the society's Scientific Committee alongside other surgeons from top centers such as Mayo Clinic, Massachusetts General Hospital and Memorial Sloan Kettering Cancer Center.
Digestive Institute Tampa's Extensive Experience in Robotic Major Liver Surgery
As one of the world's most experienced robotic liver surgeons, Dr. Sucandy was invited to give a plenary talk at the ILLS World Congress entitled "My First 300 Robotic Hepatectomy Cases" about the first 300 liver operations he performed with the da Vinci® Surgical System. Using video footage recorded directly by the da Vinci robot, Dr. Sucandy explained his usual techniques in offering robotic surgery not only for minor liver operations but for major ones as well.
He also compared the outcomes from the first, second and third 100 robotic liver operations at DI. Over time, DI's HPB surgeons performed increasing numbers of minor liver operations with the surgical robot. Because these operations are less technically challenging, it makes sense to use a minimally invasive approach when an open operation is unnecessary. As time went on, the DI surgeons became faster with performing these minor liver operations robotically. The average amount of blood loss and length of stay in the hospital after surgery also decreased over time.
However, the operating time spent on robotic major liver procedures did the opposite – it increased over time. That's because as the HPB surgeons became more proficient with robotic major liver surgery, they performed more and more complex and challenging cases that take extra time.
The result is that Dr. Sucandy, Dr. Ross and their team have gotten so proficient at robotic liver surgery that they are now using it to operate on Klatskin tumors of the bile duct. To date, they have now done 16 such procedures, which require them to reconstruct the bile duct.
"The robotic system showed an advantage over the laparoscopic [approach]," said Dr. Sucandy. "The dissection was done very precisely, and if we need to repair the portal vein with a tumor involvement or any other difficulty, this can easily be done with five- or six-hole porting without much difficulty or much stress from the surgeon," he continued.
More Experience with Robotic Surgery Equals Better Outcomes
Despite major advances in minimally invasive surgery over the past three decades, operations on the liver are still largely performed as large, open procedures. Only about 1 in every 5 patients who need liver surgery experience the benefits of having a minimally invasive operation. Almost 9 in every 10 of these operations are minor liver procedures.
Thankfully, that's not the case for patients who choose to seek care at the Digestive Institute Tampa, where surgeons regularly use the da Vinci® Surgical System for liver surgery. This approach allows patients to have an operation that leaves them with only a few, small external incisions. The benefits of this approach go well beyond less pain and scarring. The operation is also safer with less blood loss, and patients experience faster recoveries and spend less time in the hospital.
Dr. Sucandy gave three other presentations at the ILLS 3rd World Congress. The first, "Our Institutional Experience with Robotic Major Liver Surgery: Does Time Improve Outcomes?," was about the results of 144 robotic major liver operations performed at DI from 2013 through 2020. A major liver operation is defined as the removal of three or more Couinaud segments, of which the liver has eight to begin with. These 144 operations were divided into two groups, each representing either the first or last 72 procedures. These two groups of 72 operations were then compared with each other.
DI researchers determined that as Dr. Sucandy and his team gained more experience with robotic major liver surgery, their outcomes improved. While the average operation time was a little under four hours in the first group and just a little more than five hours in the second group, this was because the surgeons were performing larger, more difficult operations in the second group. In both groups, postoperative complications were very rare. However, among the 72 patients in the second, later group, just one had to be admitted to the ICU (intensive care unit) compared to nine in the earlier group. The researchers concluded that the DI HBP's greater experience with robotic major liver surgery resulted in better outcomes.
Does Robotic Surgery Help Surgeons Remove More Liver Cancer?
In another presentation, Dr. Sucandy compared robotic liver surgery with open liver surgery in how well each approach removes cancer tumors. When a surgeon takes out a cancer tumor, it is sent to a lab so that another doctor called a pathologist can check the edges, or margins, of the tumor to make sure no cancer cells are present. The goal is to have no cancer cells on the margin of the removed tissue. When this is the case, there is hope that all of the cancer has been removed.
A study looked at 61 patients at DI who had either a robotic or open liver operation. DI researchers determined that both the robotic and the open approaches were similar when it came to how close the cancer tumor was to the edge of the removed tissue. Patients who had the largest portions of healthy tissue on the margins tended to survive longer on average – indeed, average survival has not yet been reached by the patients with healthy tissue margins of at least 1.1 mm because most of these patients are still alive. Because both approaches remove liver cancer tumors equally well and the robotic approach means a shorter operation and less time in the hospital, the DI researchers concluded that robotic surgery is the preferred approach.
Robotic Surgery for Bile Duct Cancer
In the final presentation at the ILLS 3rd World Congress, Dr. Sucandy spoke about a DI study that compared the results between robotic and open surgery for patients with bile duct cancer, or cholangiocarcinoma. Bile duct cancer can be located inside the liver – where it is known as intrahepatic cholangiocarcinoma – or in the bile ducts outside the liver – known as extrahepatic cholangiocarcinoma. When extrahepatic bile duct cancer is located where the hepatic (liver) duct meets up with the duct from the gallbladder, it is called perihilar cholangiocarcinoma.
DI researchers looked at the cases of 31 patients with this perihilar bile duct cancer: 17 who had robotic surgery and 14 who had an open operation. They found that, on average, the robotic operations took longer than the open operations. However, the robotic approach resulted in less blood loss and fewer severe complications. Also, even though patients having robotic operations were older, they had shorter stays in the ICU and hospital.
Perhaps best of all, patients who have robotic surgery for bile duct cancer appear to have improved survival rates. At the time of the Dr. Sucandy's June 2021 presentation, 14 of 17 of these patients were still alive without their cancers coming back.
Call the Digestive Institute Tampa if you or a loved one has liver or bile duct cancer and want to see if minimally invasive surgery is a possibility for you. To make an appointment with an advanced HPB surgeon, call Call844-650-5950.
Recent Blogs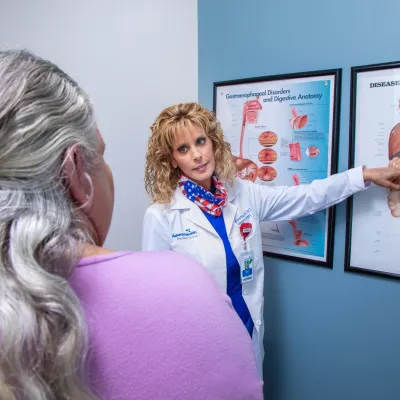 Blog
Sharona Ross, MD, FACS, advanced HPB and Foregut surgeon at the AdventHealth Digestive Institute Tampa, was invited to sit on an advisory board of a major American manufacturer of a robotic surgical...