Digestive Institute Expert Presents to International Group of Surgeons About Robotic Bile Duct Surgery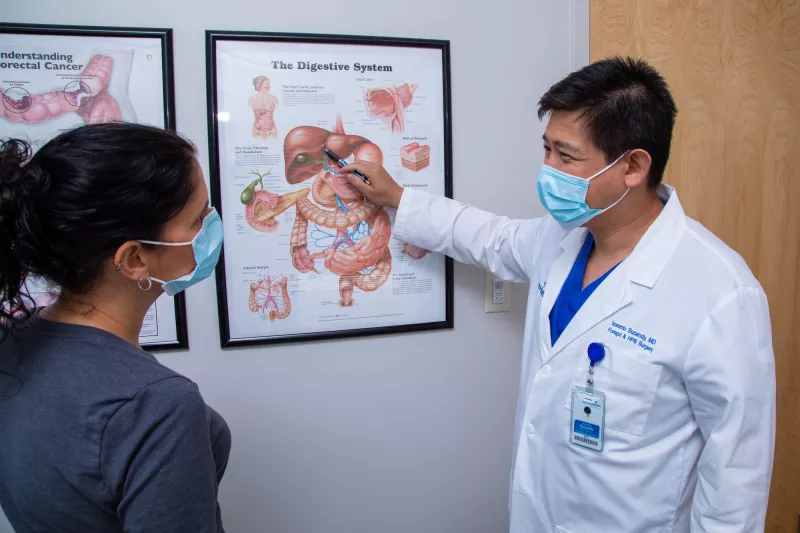 Choose the health content that's right for you, and get it delivered right in your inbox
Gallstones, which form in the gallbladder, are common culprits of abdominal pain. In fact, gallstones are so common that simple cholecystectomy (gallbladder removal) is one of the most performed operations at nearly half a million times in the U.S. each year.
Sometimes gallstones leave the gallbladder and get stuck in the common bile duct. Beyond pain, a blocked bile duct can cause fever, nausea and vomiting, and/or jaundice. If left untreated, it can cause life-threatening complications. To treat this condition, patients often require an ERCP – short for endoscopic retrograde cholangiopancreatography. An ERCP is a minimally invasive endoscopy procedure that allows doctors to look for gallstones inside the bile ducts. If a blockage is found, doctors can remove the gallstone with special tools on the end of the endoscope.
In the case of people who have had a bariatric operation known as Roux-en-Y gastric bypass, their digestive anatomy has been changed to the point where they cannot have an ERCP. In the recent past, patients in this situation only had the option of open surgery to treat these blockages. Unfortunately, open operations on the common bile duct are linked to significant pain, risk for lung and incision-related complications, and unacceptable mortality rates.
Minimally Invasive Approaches to Treating a Blocked Common Bile Duct
Iswanto Sucandy, MD, FACS, advanced HPB surgeon at the AdventHealth Digestive Institute Tampa (DI), recently described an alternative solution to a large audience of general surgeons at the Society for Robotic and Digital Surgery's virtual World Robotics Symposium in August 2020. Dr. Sucandy explained how he and his colleagues, Alexander Rosemurgy, MD, FACS, and Sharona Ross, MD, FACS, advanced foregut and HPB surgeons, use the surgical robot to offer a minimally invasive approach for common bile duct exploration.
"Ten to 15 percent of patients with symptomatic gallstones also have stones in their common bile duct," says Dr. Sucandy. If patients cannot find a surgeon experienced in treating both conditions with a single operation, it's common for them to have a cholecystectomy followed by a later ERCP to treat stones in the bile duct. "When these patients are unable to be treated through an ERCP, having robotic surgery is a safer approach that can give them all of the benefits of a minimally invasive procedure, including less pain, less chance for complications and a faster recovery," Dr. Sucandy states.
In his presentation, Dr. Sucandy listed the various pieces of surgical equipment he uses to complete a minimally invasive common bile duct exploration. He then explained that the first step is knowing the patient's anatomy. There are a few standard variations in the hepatic arteries near the bile ducts of which the surgeon must be aware. Then, the surgeon should always try to unblock the common bile duct with the least invasive means possible. For example, flushing the common bile duct with fluid might be all it takes to remove the blockage. Imaging known as fluoroscopy can be used to show the surgeon whether or not the bile duct is still blocked after this step. If it is, then the surgeon should attempt using a laparoscopic approach through the gallbladder to remove the stone or stones blocking the common bile duct. If this is still unsuccessful, then an experienced hepatobiliary surgeon can use a robotic surgical approach to remove the blockage directly from the common bile duct.
Robotic Surgery for Blocked Common Bile Duct
Dr. Sucandy explained and showed videos about how he, Dr. Rosemurgy and Dr. Ross use the da Vinci® Surgical System to explore and remove gallstones from the common bile duct. The operation requires five small incisions in the abdomen so that a camera can show the surgeon the surgical site, incisions can be made to the appropriate tissues and instruments can be used to remove the stones. In addition to one surgeon controlling four arms of the surgical robot from a console, the procedure also requires another surgeon assist with laparoscopic tools at the patient bedside. Once the blockage is removed, the surgeons also must repair the common bile duct so that bile can flow as usual from the gallbladder and/or liver to the small intestine.
In addition to explaining a robotic operation for common bile duct exploration and stone removal, Dr. Sucandy also discussed potential complications. He spoke about what adaptations to the operation a surgeon would have to make if not all of the stones could be removed.
Sharing with other surgeons about how he, Dr. Ross and Dr. Rosemurgy perform robotic common duct exploration was important to Dr. Sucandy because he knows how much this approach can help patients and even save lives. By explaining their surgical techniques, what instruments they use, and tips and tricks about how to successfully carry out a complex operation like this, the advanced HPB surgeons at the Digestive Institute Tampa hope that other surgeons will start using this approach so more patients can reap the benefits of minimally invasive surgery.
If you are looking for a team of experienced HPB surgeons who routinely offer minimally invasive bile duct, liver and pancreas operations, you've found them at AdventHealth Digestive Institute Tampa. For a surgical consultation, call us at Call844-650-5950.