Digestive Institute Advanced HPB Surgeon Shares Expertise with an International Audience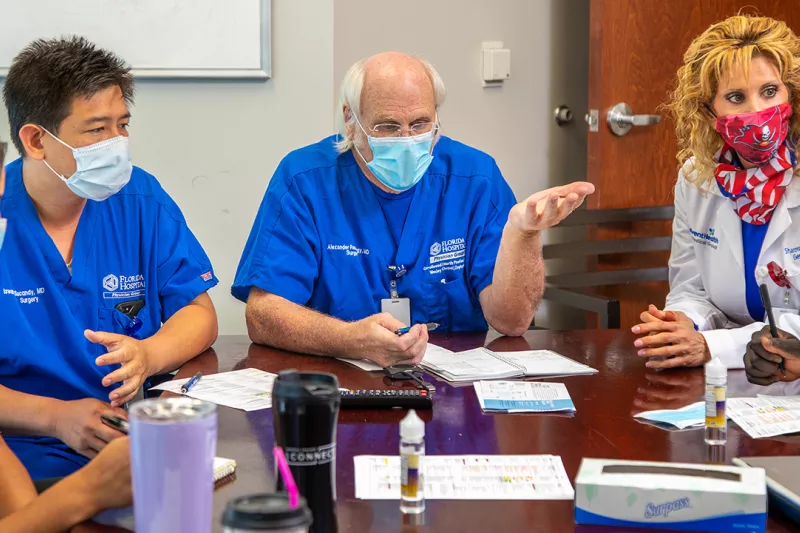 Choose the health content that's right for you, and get it delivered right in your inbox
On behalf of the AdventHealth Digestive Institute Tampa (DI), Iswanto Sucandy, MD, FACS, advanced HPB surgeon, participated in the 14th World Congress of the International Hepato-Pancreato-Biliary Association (IHPBA), held virtually from November 27 – 29. The conference was organized in Australia, and its virtual format offered "new experiences in the HPB field and will open the borders to all surgeons, physicians, clinicians and researchers from across the world," according to the event website.
Dr. Sucandy was among those gathered to learn and share about their experience in treating conditions of the liver (H - hepato), pancreas (P - pancreato) and gallbladder and bile ducts (B - biliary). He and his colleagues, Alexander Rosemurgy, MD, FACS, and Sharona Ross, MD, FACS, both advanced foregut and HPB surgeons at DI, work together to offer their patients ideal surgical solutions. Dr. Sucandy, Dr. Rosemurgy and Dr. Ross specialize in minimally invasive surgery, often with the surgical robot, to provide complex operations that result in better outcomes.
Everything that Dr. Sucandy shared at the IHPBA 2020 conference showcased how he, Dr. Rosemurgy and Dr. Ross use the da Vinci® Surgical System to complete their complicated procedures. With the exception of simple gallbladder removal, many HPB surgeons still perform the majority of their operations as open procedures. Unfortunately, this approach involves a large abdominal incision and results in more blood loss than a closed robotic surgery procedure. Also, patients take much longer to recover after surgery with an open operation. With robotic surgery, they feel better faster and often recover with less pain.
Dr. Sucandy explained to the conference participants that not only is advanced HPB surgery with the surgical robot possible, but it can give distinct advantages to the surgeon. One of these is the 3D view of the surgical site that the robot's camera provides. This feature can help the surgeon see cancer tumors better than with an open surgery.
Outstanding Results from Robotic Surgery for Liver Cancer in Tampa
In his talk, "Short and Long-term Outcomes of Patients Undergoing Robotic Major Hepatectomy for Malignant Tumors," Dr. Sucandy reported the results of 80 robotic major hepatectomies – that is, removing a large portion of the liver with the da Vinci Surgical System. The operations were performed at DI by Dr. Sucandy, Dr. Rosemurgy and Dr. Ross from 2013 to 2019. The surgeons and DI's research team found that robotic surgery was a safe and effective way to treat liver cancer. In the hands of the DI surgeons, this approach resulted in very few complications. Also, after their robotic surgery for hepatocellular carcinoma (primary liver cancer), median disease-free survival was 55 months. This means their average patient experienced cancer remission for nearly five years, significantly better than what patients typically experience with open surgery.
DI Surgeons Demonstrate Their Techniques to Other Surgeons Through Video
In addition to Dr. Sucandy's presentation, DI's advanced HPB surgeons shared six robotic surgery videos that were uploaded to the event's "e-VideoWall":
Treating Recurrent Liver Cancer | "Robotic Recurrent Hepatocellular Carcinoma Resection of Liver Segment 3" showed an operation for a patient who had previously received liver embolization and liver resection to treat primary cancer. When the cancer returned, the patient needed a partial removal of another portion of the liver as well as a repair of a hernia. Because the operation was so complex, it was performed using both an open technique as well as the surgical robot.
A Complicated Removal of Bile Duct Cancer | "Robotic Resection of a Type IIIb Klatskin Tumor." In this video, Dr. Sucandy described the steps that he, Dr. Ross and Dr. Rosemurgy took to remove a tumor of the bile ducts. It was a particularly complex operation, and the surgeons had to remove the entire right lobe of the liver and ensure vital blood vessels remained intact. Then they had to reconstruct the bile duct from the liver to the small intestine. However, the surgeons were still able to complete the procedure as minimally invasive, robotic surgery.
Removing a Liver Tumor Before It Develops into Cancer | "Robotic Excision of a Large Type 1 Choledochal Cyst with Roux-en-Y Hepaticojejunostomy" showed a case where a patient needed surgery to remove a precancerous tumor from the liver. Dr. Sucandy, Dr. Ross and Dr. Rosemurgy used the surgical robot to remove the cyst, the gallbladder and part of the bile duct outside the liver. Then they created a new path for bile to flow from the liver into the small intestine.
Treating Complications That Developed After Trauma Surgery | "Robotic Partial Right Hepatectomy for Chronic Biliary Fistula Associated with Gunshot Wound." A patient came to DI with complications following an exploratory laparoscopy done at a trauma center ten months earlier. These complications included a bile leak, abdominal abscess and infection in part of the liver. Despite the patient having extensive scaring, Dr. Sucandy, Dr. Ross and Dr. Rosemurgy used robotic surgery to remove three liver segments and a portion of a third and repair the damaged bile duct.
Robotic Whipple Surgery to Treat Jaundice | "Robotic Pancreaticoduodenectomy Pylorus Preserving/with Antrectomy" was a video that featured a patient who needed a pancreaticoduodenectomy (the Whipple procedure) to remove the pancreas and stomach to treat jaundice. Dr. Ross, Dr. Sucandy and Dr. Rosemurgy had to be as careful as possible to preserve the structure of the anatomy and reconstruct the connections between the liver and the small intestine as well as the pancreas and the small intestine.
Treating a Very Serious Case of Gallstones | "Robotic Common Bile Duct Exploration with Choledochoscopy and Choledochoduodenostomy" showed a case where a patient needed to have the bile ducts explored to remove several gallstones and present gallstones. Then, a new connection had to be created between the common bile duct and the small intestine to prevent future problems. The video showed other surgeons that this kind of procedure can be done safely and effectively with the surgical robot, giving patients a minimally invasive option.
By presenting videos such as these at professional conferences, Dr. Sucandy, Dr. Ross and Dr. Rosemurgy show to other surgeons around the world that robotic surgery works well for highly complex HPB operations. Hopefully, this will inspire other surgeons to learn robotic surgery techniques and ultimately give patients a better surgical experience.
When you or a loved one needs liver, pancreas, gallbladder or bile duct surgery, find out if a minimally invasive approach is right for you. For a consultation with a DI advanced HPB surgeon, call Call813-615-7030.