AdventHealth Digestive Institute Shares Expertise in Minimally Invasive Surgery at ACS Clinical Congress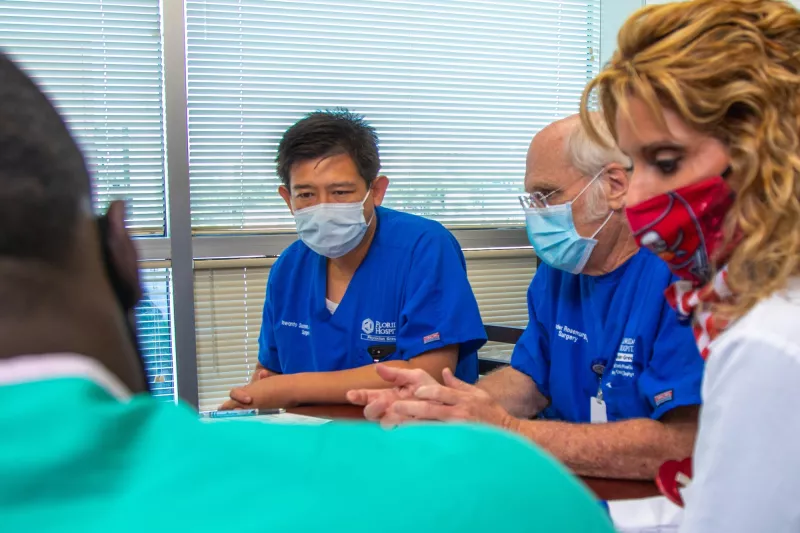 Choose the health content that's right for you, and get it delivered right in your inbox
Three AdventHealth Digestive Institute Tampa (DI) surgeons presented at the American College of Surgeons (ACS) Clinical Congress 2020, held October 3 – 7 as a virtual event. Alexander Rosemurgy, MD, FACS, and Sharona Ross, MD, FACS, both advanced foregut and HPB surgeons, and Iswanto Sucandy, MD, FACS, advanced HPB surgeon, presented about their leading-edge expertise in pancreatic, esophageal and liver surgery.
While the Digestive Institute's surgeons miss the camaraderie of in-person meetings, moving these conferences to virtual events has often increased the number of other surgeons who see their presentations. This year, the ACS made registration for its virtual Clinical Congress free for its members, and these presentations are still available for them to view online. In other words, more surgeons across the country and even the world will have the opportunity to benefit from the expertise of the surgeons at DI Tampa.
Can Pancreatic Cancer Genetic Mutations Predict Survival?
In a talk entitled "Genetic Profiling of Pancreatic Ductal Adenocarcinomas: Predicts Survival or Just Alphabet Soup?" Dr. Rosemurgy presented about a study that he, Dr. Ross and Dr. Sucandy completed with other DI researchers about whether genetic mutations in pancreatic cancer could predict how long patients would live. They looked at the specific cases of 47 patients who had pancreaticoduodenectomies – the Whipple procedure – at DI in 2017 and 2018. After the cancer tumors were removed, they were genetically profiled to determine their mutations. Mutations are places in a cell's DNA in which the genetic code is abnormal. When enough abnormalities to this genetic code occur, they result in a cancer cell. In the group of patients being studied, the average number of mutations in these cancer cells was 26.
Some specific mutations were more common in older patients (KRAS mutations) and male patients (SMAD4 mutations), but these were not seen to influence survival. However, the researchers discovered that the 9 percent of patients with PHLDA1 mutations had significantly decreased survival. Also, the 6 percent of patients with ZNF708 mutations tended to live longer than the other patients.
This research was based on current knowledge of genetic testing. Hopefully one day scientists may be able to use genetic tests to know which form of treatment can better help individual patients with pancreatic cancer. However, surgery to remove the tumor is the best way to treat pancreatic cancer, and DI surgeons work with a multidisciplinary team of cancer specialists to help give more patients the option of surgery.
How Do DI's Robotic Esophagectomy Outcomes Compare to National Esophagectomy Outcomes?
Dr. Ross presented about the Digestive Institute Tampa's outcomes with esophagectomy – performed as minimally invasive robotic transhiatal procedures – and how they compared with the American College of Surgeons (ACS) National Surgical Quality Improvement Program (NSQIP) outcomes. In her talk, "Robotic Transhiatal Esophagectomy is the Future: Here and Now," she shared that DI's outcomes with robotic esophagectomy were similar to, and in many cases better than, the national average of esophagectomies (open and minimally invasive) at NSQIP hospitals.
The researchers looked at a group of 65 patients who had a robotic transhiatal esophagectomy, which removes a portion of the esophagus, or food tube. Almost all of them (61) had esophageal cancer, and two-thirds had had chemotherapy or chemotherapy and radiation to shrink their tumors before surgery. Esophagectomy is a complex operation, and unfortunately complications are common. According to the NSQIP national average, about 1 in 3 patients had complications with esophagectomy. Many of the esophagectomies performed nationally were open operations, which involve longer, more difficult recoveries than robotic esophagectomy. With the transhiatal robotic esophagectomies at DI, only 1 in 5 patients experienced any complication from the procedure. Other areas in which DI had superior results included serious complications (17 percent at DI compared to 32 percent nationally), surgical site infection (2 percent at DI compared to 14 percent nationally) and the need to return to the operating room (2 percent at DI compared to 13 percent nationally).
Do Robotic Liver Surgery Outcomes Improve as Surgeons Gain More Experience?
In DI's final presentation at the ACS Clinical Congress 2020, Dr. Sucandy spoke about the group's experience with 100 robotic major hepatectomies. A robotic major hepatectomy is a procedure in which at least three segments of the liver are removed through a minimally invasive operation with the surgical robot. In "The Journey of 100 Consecutive Robotic Major Hepatectomy: Where Are We on This Learning Curve?", Dr. Sucandy reported on metrics often used to show improvement in the procedure as a surgeon offered it to the latest patients compared to the first patients. To illustrate this, the patients were divided into four groups: patients #1 – 25, patients #26 – 50, patients #51 – 75 and patients #76 – 100.
Within these four groups of patients, there was no major difference in metrics such as complications during surgery or afterwards. (However, the number of intensive care unit (ICU) admissions declined over time, with none of the last 25 patients needing the ICU.) The DI researchers concluded that this was because the surgeons already had a high level of proficiency with open liver resections before they started offering these procedures with the surgical robot. Also, the average time each robotic liver operation took and the average length of stay in the hospital also increased over time. However, this was related to the complexity of patient cases. As they improved in their experience with robotic liver surgery, the DI surgeons offered these operations for patients with more challenging problems. Because of these things, the DI surgeons concluded that as long as surgeons already have extensive experience with liver surgery, their learning curve with using the surgical robot for major liver surgery will be short.
DI Surgical Video Presentations at ACS Clinical Congress 2020
In addition to their ACS Clinical Congress presentations, the DI surgeons also shared videos with footage from actual operations they had performed. In "Robotic Pancreaticoduodenectomy for Intraductal Papillary Mucinous Neoplasm with Cholecystectomy," Dr. Ross demonstrated that a complex operation such as removing the gallbladder and pancreas with a Whipple procedure can be performed successfully with the surgical robot. In "Robotic Resection of Right Posterosuperior Metastatic Lesions," Dr. Sucandy showed how the surgical robot could be used to remove two metastatic cancer tumors from three sections on the right side of the liver. In the final video, "Robotic Resection of a Type IIIb Klatskin Tumor," Dr. Sucandy showed a particularly complex case of surgery for cholangiocarcinoma – bile duct cancer. This is type of cancer that most HPB surgeons do not treat, and Dr. Sucandy, Dr. Rosemurgy and Dr. Ross are currently some of the only surgeons in the world able to offer the patient a minimally invasive robotic surgery for bile duct cancer. With the surgical robot, DI's HPB surgeons delicately removed the common liver artery, common bile duct, the entire right lobe of the liver and part of the liver near the vena cava – the body's largest vein. Then they reconstructed the digestive system so that bile from the liver could enter the upper part of the intestine as usual.
If you or a loved one is looking for minimally invasive surgery for the esophagus, pancreas, liver, bile duct or any other part of the digestive tract, the AdventHealth Digestive Institute Tampa surgeons can help. For an appointment, call Call844-650-5950.