A Better Treatment for Liver, Gallbladder and Biliary Cancer: Robotic Surgery at Digestive Institute Tampa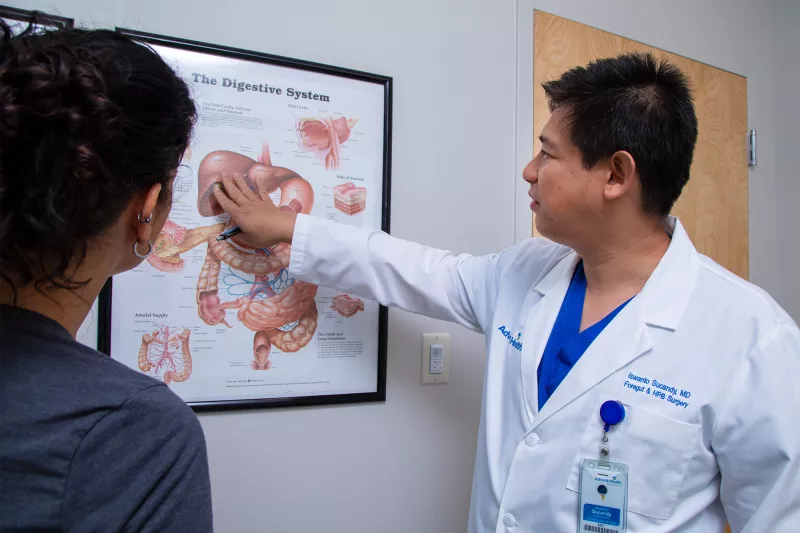 Choose the health content that's right for you, and get it delivered right in your inbox
The number of patients diagnosed with liver cancer each year has dramatically increased in the U.S over the last several decades. This is true for patients with cancer that begins in the liver as well as those that spread or metastasize there. More patients are being treated for liver cancer partly because of better diagnostic tools and partly because chemotherapy treatments have become more effective, so patients are living longer with cancer. Many cancers eventually spread to the liver.
The only hope for a cure for liver, gallbladder and bile duct (biliary) cancers is surgery that completely removes the tumor. This is why the Advanced Hepatobiliary surgeon, Iswanto Sucandy, MD, FACS, at AdventHealth Digestive Institute Tampa offer surgery to resect liver, gallbladder and biliary cancers. Often surgery is part of an overall treatment plan that includes chemotherapy and radiation therapy.
Liver cancer can either start in the liver (primary liver cancer) or outside the liver (metastatic liver cancer from other organs such as the pancreas, colon, rectum and others). Either way, a liver cancer diagnosis can seem daunting, and patients may not know where to turn to find the latest, most advanced treatment options and skilled care providers. Dr. Sucandy offers the modern diagnostic tools and advanced treatments – including minimally invasive surgery – needed to treat liver cancer optimally. This Digestive Institute surgeon works closely with the center's gastroenterologists to accurately diagnose liver and biliary cancer through techniques such as endoscopic fine needle aspiration biopsy. If a patient has a tumor causing symptoms, the surgeons and gastroenterologists work together to provide treatments such as placing a stent to unblock a bile duct. AdventHealth experts in interventional radiology are also an important part of the liver cancer care team at the Digestive Institute.
Minimally Invasive Robotic Surgery for Liver Cancer in Tampa
What especially sets the Digestive Institute apart from other centers is that the vast majority -- 85% -- of its operations for liver cancer are performed as minimally invasive surgery with the surgical robot. Traditionally, liver, gallbladder and bile duct cancer surgery has been performed through a large incision in the belly to access these organs. An open liver resection is a major operation that requires a long hospital stay and lengthy recovery. The majority of surgeons in the U.S. who treat liver cancer still use this open method because they lack expertise in offering minimally invasive liver surgery.
In the early 1990s, some advanced surgery centers started using minimally invasive laparoscopic liver resection as an alternate to open operation. However, this method is very challenging for the surgeon and has its limitations. Many of these procedures start off as minimally invasive but end up needing to convert to open surgery. Instead, Dr. Sucandy offers robotic-assisted liver surgery through techniques they have perfected. This robotic surgery for liver resection results in better outcomes for patients such as:
Less blood loss and need for blood transfusion
Shorter hospital stays
Less pain
Less chance for complications, such as infection, hernias and scar tissue development, after surgery
A faster recovery that means the patient's next treatment, such as chemotherapy, can begin sooner.
"Minimally invasive robotic liver surgery requires specialized expertise. Not all liver surgeons are capable of handling it," says Dr. Sucandy. "Surgeons need to be fluent in open liver surgery first before attempting the minimally invasive method. Also, high volume liver surgery centers like ours experience fewer complications compared with low volume centers that perform five or fewer liver operations per year."
Dr. Sucandy adds that patients should not be afraid to ask their liver surgeons or specialists about the number of cases of a particular operation they perform per year and their overall outcomes.
While research has proven the advantages of minimally invasive liver surgery, this is not something most patients are aware of. Some of them may think that an open liver operation is preferable because they mistakenly believe the surgeon can see and use his or her hands better. However, the da Vinci Surgical System, the surgical robot that Dr. Sucandy uses for his minimally invasive liver operations, magnifies the surgical site. This allows them to see better than with the naked eye. The robot seamlessly translates their hand and wrist movements to the tiny instruments placed where the procedure is happening. When minimally invasive liver surgery is performed by an expert liver, gallbladder and biliary surgeon, the outcomes are superior to an open liver surgery.
Outstanding Outcomes for Liver Resection at the Digestive Institute Tampa
Our liver cancer experts recently published a study that found that the Digestive Institute's outcomes after liver surgery are significantly superior when compared to national benchmarks. For robotic left hepatectomy (liver resection), Digestive Institute's overall complication rate was 7%, much lower than the reported national standard of 21%. For robotic right hepatectomy, Digestive Institute's overall complication rate was 13%, also much lower than the national data of 28%. While most open liver resection operations require a hospital stay of 7 to 10 days, Digestive Institute's length of hospital stay after robotic liver resection is only 2 to 5 days. This shorter recovery means that when patients need chemotherapy after their liver operations, it can be restarted a lot sooner – 4 weeks after surgery instead of 8 weeks. These are remarkable differences, and patients in the Tampa Bay area can access these unparalleled benefits by choosing AdventHealth Tampa's Digestive Institute for their liver surgery.
Because Digestive Institute's Advanced Hepatobiliary surgeons use a robotic approach for liver resection, there is less chance that they will need to convert the operation to an open liver resection during surgery. Laparoscopic liver resections have a reported conversion rate of 10 to 30 percent, meaning that many patients did not get the minimally invasive procedures they signed up for. However, Dr. Sucandy conversion rates with robotic liver resection are only 0.5%, meaning that 199 of 200 of their patients receive a minimally invasive operation. These surgeons offer similar outstanding outcomes for patients having surgery for bile duct cancers, repairs of bile duct leaks, and laparoscopic treatment for liver cysts.
For patients with liver, bile duct or gallbladder cancers, Dr. Sucandy understands the importance of offering treatment as soon as possible. He strives to see patients with cancer within three to five business days for an initial consultation, and try to provide a surgical treatment within a week or two of that first appointment. The surgeon carefully explain to patients and their family members their treatment options. Fully committed to their patients' care, the surgeon always seek to provide the very best possible outcomes for patients and their families.
If you have been diagnosed with liver, gallbladder or bile duct cancer or another digestive cancer, learn more about minimally invasive treatment options. Call Call813-615-7030 to schedule an appointment with a Digestive Institute Advanced Liver and Bile Duct Surgeon.