A Better Treatment for Esophageal Cancer: Robotic Surgery at Digestive Institute Tampa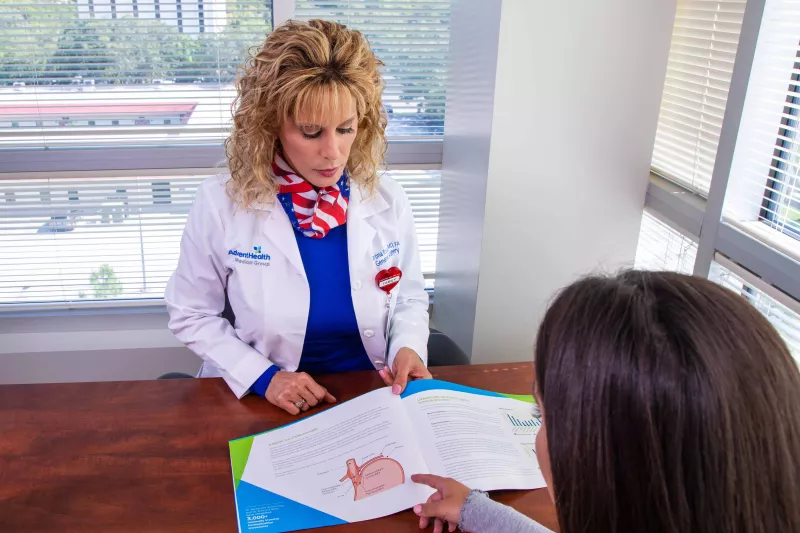 Choose the health content that's right for you, and get it delivered right in your inbox
Esophageal cancer rates have dramatically increased in the U.S. over the past few decades, largely because more and more of us experience chronic acid reflux, or gastroesophageal reflux disease (GERD). Since the FDA approved the first proton pump inhibitor medication three decades ago to treat GERD, rates of a cancer called esophageal adenocarcinoma have increased over seven times. This is why the Advanced Foregut surgeons, Sharona Ross, MD, FACS and Alexander Rosemurgy, MD, FACS, at AdventHealth Digestive Institute Tampa offer procedures that permanently treat GERD – and often completely cure the condition – and prevent esophageal adenocarcinoma.
However, for patients who may be facing esophageal cancer, Drs. Ross and Rosemurgy also have the diagnostic tools and advanced treatments they need. Importantly, the team of gastroenterologists together with Drs. Ross and Rosemurgy at the Digestive Institute move quickly so that patients can receive cancer treatment as soon as possible.
If a patient is suspected of esophageal cancer, gastroenterologists provide diagnostic tests such as imaging studies like endoscopic ultrasound. They offer endoscopic fine needle aspiration (FNA) to biopsy the suspicious area of the esophagus, or tube that connects the mouth to the stomach. If a patient is diagnosed with esophageal cancer, depending on the size and location of the tumor, he or she may have surgery before or after other treatments such as chemotherapy and radiation therapy.
Time Is of the Essence for Esophageal Cancer Surgery
"Cancer does not wait," says Dr. Ross. That is why she and her colleague, Iswanto Sucandy, MD, FACS, offer patients with digestive cancers surgical treatment very quickly.
"We do not delay care, and we strive to provide patients with an operation within a week of seeing them in our clinic," continues Dr. Ross. She stresses that the AdventHealth Digestive Institute Tampa fast-tracks most patients with cancer so they can meet with a surgeon within five business days and often sooner. Dr. Ross also notes that most cancer surgery is not in the category of elective operations being postponed currently during the COVID-19 crisis. Right now, she and her colleagues are still offering cancer treatment procedures three days a week.
AdventHealth Digestive Institute Tampa's Advanced Robotic Surgery for Esophageal Cancer Leads to Better Outcomes
A common surgical treatment for esophageal cancer is esophagectomy. This is a procedure that removes part of the esophagus affected by cancer. Then, a portion of the stomach is reshaped into a tube and reattached to the remainder of the esophagus. Many centers perform esophagectomy as an open procedure – such as the Ivor-Lewis that requires long incisions in the chest and the upper abdomen – but AdventHealth Digestive Institute Tampa's Drs. Ross and Rosemurgy favor a minimally invasive approach called transhiatal esophagectomy.
Specifically, Drs. Ross and Rosemurgy use robotic surgery to complete most of their transhiatal esophagectomies. Instead of the large, morbid incisions that the open Ivor-Lewis procedure requires, esophagectomy with the da Vinci® Surgical System robot means patients only need one small 3-inch incision in the neck and 5 mm to 8 mm incisions in the abdomen. The surgical robot also gives the surgeons advantages over minimally invasive laparoscopic surgery: better visualization with a 3D rendering of the surgical site and the ability to make the same full wrist motions as with an open procedure.
Drs. Ross and Rosemurgy as well as the clinical and research fellows recently completed a study on the outcomes of their patients who had received robotic transhiatal esophagectomy from 2013-18. They compared outcomes for these 65 patients with other patients' outcomes for transhiatal esophagectomy as reported at other centers participating in the National Safety Quality Improvement Program (NSQIP) during the same years. They found that AdventHealth Digestive Institute Tampa patients did better than would ordinarily be expected. In fact, compared to the national transhiatal esophagectomy data, our patients having robotic esophagectomy had lower rates of any complication, including serious complications, cardiac complications, infections and requirements of a second surgery.
According to the National Institutes of Health SEER database, only 20% of patients with esophageal cancer (including patients with high stage cancers who were unable to have surgery) survive at least 5 years after diagnosis. However, more than half of AdventHealth Digestive Institute Tampa's robotic transhiatal esophagectomy patients live longer than 6 years after being diagnosed. Drs. Ross and Rosemurgy have good reasons to think that their minimally invasive approach leads to these improved survival rates. Patients with esophageal cancer tend to have other conditions such as asthma, sleep apnea and other pulmonary problems. If they have the open Ivor-Lewis esophagectomy, their large chest incision can make it difficult to breath. Because the robotic approach does not involve any chest incisions, this puts patients at an advantage to make a full recovery.
Dr. Ross adds that another reason why patients receiving a robotic transhiatal esophagectomy at AdventHealth Digestive Institute Tampa do so well is because they do not require ICU care after their operations, and their care teams have them up and walking the same day. While in the hospital, patients receive physical therapy twice a day, enhancing their recovery after surgery.
"By embracing robotic surgery, we have made huge progress in the treatment of patients with esophageal cancer," Dr. Ross concludes.
If you have been diagnosed with or are suspected to have esophageal cancer, learn about your care options such as minimally invasive esophagectomy. For an appointment with Drs. Ross and Rosemurgy at the AdventHealth Digestive Institute Tampa, call Call813-615-7030.