Digestive Institute Tampa Surgeons Present on Robotic Surgery at Virtual SAGES 2020 Conference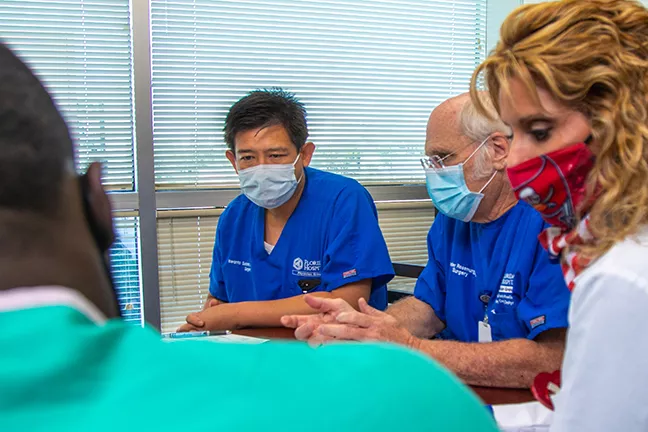 Choose the health content that's right for you, and get it delivered right in your inbox
At the annual meeting of the Society of American Gastrointestinal and Endoscopic Surgeons (SAGES), Iswanto Sucandy, MD, FACS, advanced HPB surgeon, and Sharona Ross, MD, FACS, advanced foregut and HPB surgeon, gave presentations related to robotic surgery for conditions of the liver and esophagus. The August 11 – 13 meeting, originally scheduled to be in Cleveland, Ohio, home of the Rock and Roll Hall of Fame, was instead held virtually with the theme "Vision 2020: Rockin' the Future with Innovation and Discovery." The two Digestive Institute (DI) surgeons demonstrated how innovations in robotic surgery developed by their practice are leading to operations that are easier on patients and result in better outcomes.
Robotic Surgery for Non-Cancerous Liver Tumors
Dr. Sucandy gave a video presentation on "Robotic Total Left Hepatectomy for Large Liver Hemangioma." A common cause of birthmarks, a hemangioma is a benign (non-cancerous) tumor made up of blood vessels. In a group of 100 people, a handful of them will have one of these tumors in their liver. Many will not even know it unless they have an abdominal imaging test for another condition. The resulting images might show the liver hemangioma. In other cases, if a liver hemangioma is large enough, it can lead to pain, discomfort or other medical complications such as low blood pressure that causes fainting. In these rare cases, surgery to remove the tumor is often the ideal treatment.
For a patient who had a 13 cm hemangioma – the size of a large shot put ball – located in three portions of the liver, Dr. Sucandy performed a robotic liver resection along with his colleagues Dr. Ross and Alexander Rosemurgy, MD, FACS, also an advanced foregut and HPB surgeon. During the procedure, ultrasound was used to show important blood vessels and bile ducts so that these would not be severed. With video footage of the surgery rolling in the background, Dr. Sucandy discussed the instruments they used to safely remove portions of the liver to gain access to the hemangioma. As the surgeons got closer to critical tissues, they used more sophisticated surgical tools to remove the portion of the liver containing the hemangioma. Because the hemangioma was made up of blood vessels, it had a lot of blood flowing to it. However, Dr. Sucandy talked about how he, Dr. Ross and Dr. Rosemurgy minimized blood loss and successfully completed the operation.
Robotic Surgery to Correct a Cholecystectomy Complication
Dr. Sucandy also gave a video presentation entitled "Robotic Roux-En-Y Hepaticojejunostomy for Right Hepatic Duct Transection." He described what he, Dr. Ross and Dr. Rosemurgy did to help a patient with a leaky bile duct following a minimally invasive gallbladder removal operation (cholecystectomy) at another center. The DI surgeons were able to use the surgical robot to correct what turned out to be a complete severing of the bile duct of the right side of the liver. This provided a minimally invasive corrective procedure so the patient wouldn't need open surgery. Dr. Sucandy, Dr. Ross and Dr. Rosemurgy reconstructed the duct so that bile could once again flow from the liver into the jejunum – an early portion of the small intestine where the bile helps break down food as it leaves the stomach.
Robotic Surgery for Metastasized Colon Cancer
In his "Robotic Left Hepatectomy for Metastatic Colon Cancer" video presentation, Dr. Sucandy showed how he, Dr. Ross and Dr. Rosemurgy removed a small 1.6 cm tumor from the liver, thought to be colon cancer metastasis. Because minimally invasive liver surgery is still so rare, each center tends to have their own techniques and surgical instruments to prevent blood loss during these sophisticated operations. In this particular case, the HPB surgeons at DI used a combination of robotic and laparoscopic tools to offer a successful procedure to remove the affected portion of the liver. In fact, the operation went so well that the patient was able to leave the hospital two days after surgery.
Robotic Surgery for Unusual Abdominal Cancer Cases
In his final video presentation for the 2020 SAGES meeting, "Robotic Right Adrenalectomy for Metastatic Sarcoma," Dr. Sucandy discussed the surgical case of another patient who was discharged from the hospital just two days after surgery. The patient had a soft tissue tumor called a sarcoma removed from their arm several years earlier. However, traces of the tumor spread to and started growing in the right adrenal gland, which sits atop the right kidney. To treat this new tumor, Dr. Sucandy, Dr. Ross and Dr. Rosemurgy had to move the liver and remove the gallbladder before removing the two adrenal glands to treat the cancer. It was another example of how a unique and complicated operation can be successfully performed as a minimally invasive procedure with the assistance of the surgical robot.
A Less Invasive Esophagectomy with Better Outcomes for Most Patients
At the virtual SAGES meeting, Dr. Ross presented a poster: "Robotic Transhiatal Esophagectomy is the Future: Here and Now." The poster contained a table showing the Digestive Institute Tampa's outcomes with minimally invasive, robotic esophagectomy. These outcomes were compared to the national outcomes for any kind of esophagectomy – open or minimally invasive – as reported by the American College of Surgeons' National Surgical Quality Improvement Program (NSQIP). The poster also included an illustrated graphic showing the places on a patient's abdomen where DI surgeons make small keyhole incisions (most 5 – 12 mm, with one larger one) to perform such a complex operation as one that removes a portion of the esophagus, or food tube.
The outcomes table showed Dr. Ross and Dr. Rosemurgy's good results with transhiatal robotic esophagectomy (robotic THE) for 65 patients. Their results were better than predicted for esophagectomy and better than the average outcomes at the NSQIP hospitals. Complications with this complex procedure are common, and about 1 in 3 patients experience them after surgery. However, at DI, chances for complications with robotic THE dropped to just 1 in 5 patients. The robotic THE procedures performed by Dr. Ross and Dr. Rosemurgy also tended to result in fewer serious complications (17 percent compared to 32 percent nationally), surgical site infection (2 percent compared to 14 percent nationally) and the need to return to the operating room (2 percent compared to 13 percent nationally). Robotic THE also results in a faster and easier recovery. In fact, the length of stay in the hospital was 8 days with robotic THE at DI compared to the expected 11 days. Because of these benefits and good outcomes that met or exceeded NSQIP expectations, Dr. Ross and Dr. Rosemurgy believe that eventually most esophagectomies will be performed as robotic THE procedures.
Dr. Ross also gave a video presentation on "Robotic Transhiatal Esophagectomy," which showed a THE and pyloromyotomy – cutting the pylorus muscle to open the stomach into the small intestine – to treat a case of esophageal cancer. She described the techniques that she and Dr. Rosemurgy used to operate through incisions in the abdomen and neck and to reconstruct a new food tube for the patient. The result was a procedure with minimal blood loss, and the patient could avoid having an open surgery.
Robotic Surgery for Pancreatitis
In DI's final video presentation at SAGES 2020, Dr. Ross shared "Robotic Pylorus Preserving Pancreaticoduodenectomy and Cholecystectomy." This presentation discussed a case in which a patient needed surgery to treat recurrent pancreatitis, which can be a very serious condition. Although the patient didn't have cancer, which was also confirmed during the operation, the Whipple procedure (pancreaticoduodenectomy) to remove the pancreas and a cholecystectomy to remove the gallbladder were needed. The presentation by Dr. Ross, Dr. Rosemurgy and Dr. Sucandy showed how such a complicated HPB operation could be performed with the surgical robot to give the patient a minimally invasive treatment option.
DI Stresses the Importance of Surgery Prehab and Rehab
Finally, Dr. Ross also participated in a session where she shared her expertise in preparing patients for minimally invasive surgery (prehab) and helping them after (rehab) so that they could experience the best possible outcomes. The Digestive Institute Tampa surgeons use strategies to make their patients stronger before their operations and also use care pathways that help them recover faster after surgery.
If you need surgery for a digestive condition, consider seeing a team that offers most of their operations as minimally invasive robotic surgery to give patients a faster, easier recovery. For a consultation with an AdventHealth Digest Institute Tampa surgeon, call 813-615-7030.